Give the gift of Adventure!
Calendar of Many Adventures 2024 - 12 Battle Maps, 12 PDF 5E Adventures in a wall calendar featuring a month per page view calendar.
Organising Game Night was never easier!
(now sold out from us direct, available from local hobby stores and your favourite online retailers)
Buy from Amazon
Hot New Releases to Inspire your next adventure!
Meet our Book of Battle Mats Range - Fantasy themed Books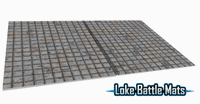 Meet our Book of Battle Mats range!
A map for any encounter at your fingertips!
With a choice of genres and sizes available your adventure starts here!
Meet our Book of Battle Mats range - Sci-Fi and CyberPunk themed books
Your Adventure starts here!
Add on Scenery for Book of Battle Mats

Retailers
Find our list of worldwide distribution partners and resources for listings here!
Stock our range

Press Resources
Our Media Kit, including images and press releases, can be found here
Press Kit

Digital maps
Head over to DriveThruRPG where we have over 200 digital maps waiting for you. Our files are suitable for VTT and we include high res print files too!
Find out more
The must-have for DMs/GMs.

DM Jim
One of my favourite formats is the battle mat book.

GeekDad
Shut up and take my Money!

Coaching for Geeks